Spring Cleaning: How to Purge Your Pantry and Make Room for Healthy Alternatives
By: RockBox Fitness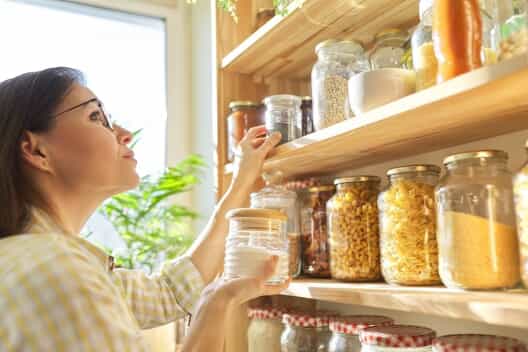 Spring is officially here and chances are your home needs a deep clean. 
Make sure that your fridge and pantry are not left out of your spring cleaning efforts. As the weather gets warmer and the summer slowly approaches, it is time to get your kitchen in order (your beach body will thank you). Get rid of the items in your fridge and pantry that do not support your health and fitness goals and welcome foods that are fuel. 
If you have the following foods in your kitchen, consider tossing them to the side and replacing them with the recommended healthy alternatives. 
DAIRY MILK 
While dairy milk has its health benefits, it can be counterproductive to your health when consumed in excess. If you are an avid drinker of cow milk, introduce a non-dairy alternative. Whether you tend to use dairy milk in your smoothies or in your cooking, almond, oat, and hemp milks are fabulous non-dairy options that will make your meals and beverages a bit healthier! 
FATTY SALAD DRESSINGS 
With the exemption of those on a ketogenic diet, replacing fatty salad dressings like ranch, blue cheese and thousand island with lighter vinaigrette dressings can take your salad from a mediocre meal to the ultimate nutrition boost. If you want to take things a bit further, making your own salad dressing from good oils, vinegars, simple condiments, and spices will change your salad game for the better. You can add dressing to your meal prep to-do list and enjoy a week of stress-free clean eating.  
CEREAL 
Cereal is the guilty pleasure of all guilty pleasures. Unfortunately, even the "healthy" breakfast cereals are not what they claim to be. With so much added sugar, it is best to steer clear of this morning delight. The best alternative to cereal is granola. Keep an eye out for granola brands that are sweetened with coconut sugar instead of refined sugars, and that contain nuts and seeds. You can eat it with milk, put it in your yogurt, or if you are feeling bold, eat it straight out of the bag. 
PROCESSED NUT BUTTERS 
To say that the nut butter shelf at the grocery store is overwhelming is an understatement. With so many options to choose from, it can be difficult to know which nut butter is most nutritious. Look for labels that say "natural" and don't forget to check out the nutrition label. Try to find a nut butter that is made from only nuts and salt (or just nuts, if you are looking for an unsalted version). If an ingredient contains added sugar or hydrogenated oils, stay away! 
REGULAR BUTTER
While butter is a staple in many households, buying regular butter is a purchase of the past. Look for natural butters that are grass-fed and clarified, and if you are looking to reduce your intake of lactose, you should check out ghee, a type of clarified butter that is lactose-free and has a higher smoke point. 
VEGETABLE OILS HIGH IN OMEGA-6
Like most things in life, there are good oils and not-so-good oils. If you have soybean, corn, sunflower, peanut, or sesame oil in your pantry, it is time to upgrade! These vegetable oils are super high in omega-6, which when consumed in excess, has been linked to chronic inflammation. Try out olive oil and coconut oil for healthier oil alternatives.