Discover the Difference our workouts make
Say Goodbye to Boring Workout Routines, Say Hello To Dynamic Kickboxing Classes
At RockBox Fitness, we totally understand how discouraging it can be when you feel like you are all alone in your fitness journey.
Committing – and staying committed – to an active and healthy lifestyle isn't always easy. It requires continued effort and pushing past frequent obstacles and struggles.
Yet in the end, the results are well worth the effort. It's just a matter of getting yourself there. Our kickboxing fitness programs can help you get there.
Check out our testimonials to see why our members love our kickboxing workouts. Visit your local RockBox studio and get your first class free!
Try Our High Energy Kickboxing Workouts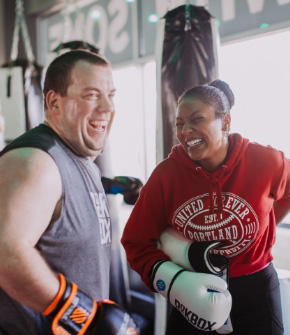 You deserve a fun workout program that gives you results and a community to hold you accountable for your goals.
Enter: RockBox trainers and rockstar members, all of whom are there to help you become your best, strongest self.
Trying and failing is frustrating – but that stops with us. We are not just another gym. We transform the way you work out – and help you have fun and find community in the process.
Looking for a better way to work out? We offer challenging, effective, and fun cardio kickboxing workouts. Find your kickboxing studio and try us for free.
RockBox is More Than Just a Place to Workout
You may need some nutrition advice or one-on-one personal training to help you crush your fitness goals.
For that reason, some of our studios offer:
At RockBox Fitness, we understand the importance of personalized support that goes beyond the typical gym experience. Whether it's crafting a customized meal plan or developing a workout routine tailored specifically to your needs, our studios are ready to assist. Our Accountability Coaching, in particular, helps keep you on track, providing the necessary encouragement to stay committed to your goals. We believe that these multifaceted programs enable our members to engage with their fitness journeys in a more meaningful and effective way.
We know how intimidating starting or getting back into fitness can be. Sometimes, it'll require lifestyle changes that may seem overwhelming at first. But at RockBox Fitness, you're never alone in this transformation process. Our community, both members and staff, is invested in your success, and we'll be there for you each step of the way. We don't just see fitness as a solitary pursuit; we view it as a shared triumph. And when you've hit your goals, we'll be the first to celebrate with you!
Learn more about our holistic fitness programs by contacting your local RockBox. Your first class is free and we're confident you'll love it.
First Timer? No Sweat.
Kickboxing Routine for Beginners and Seasoned Pros Alike!
If you've never tried a RockBox workout class, we're excited to show you what we are all about. We're so convinced you'll love it, we offer your first workout free.
From the moment you step through our doors, we'll make sure you feel comfortable and supported in our studio.
Here's what you can expect from your try-it-free experience:
Arrive 30 minutes before the scheduled class time
Attend a goal-setting session with our certified trainers
We'll explain why you need to wrap up your hands and show you how to do it
You'll receive one-on-one instruction from the trainer on how to throw the six different punches and three different kicks
We'll explain how the class moves and how the stations and kiosks work
Experience the fun, high-energy 50-minute boxing workout
Start rocking your new confidence
Following the class, our trainer will make recommendations about the next steps.
Ready to give us a try for free? We can't wait to show you how we are redefining the traditional workout class.