5 Nutrition Hacks to Elevate your Not-So-Healthy Favorite Recipes
By: RockBox Fitness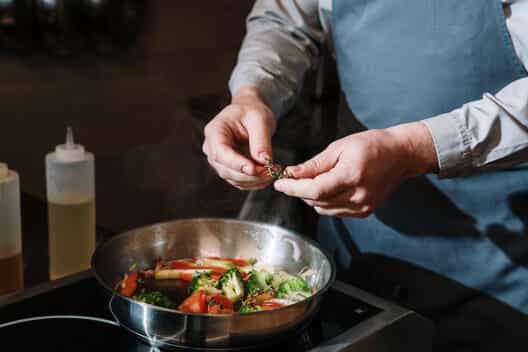 Proper nutrition is an investment. It requires ongoing commitment, culinary creativity, and oftentimes, the ability to say 'no' to some of your favorite foods. 
While countless health tips have made their way to fame through fad diet after fad diet, there are certain nutrition guidelines to follow that are undoubtedly the right move to make. Increased vegetable intake, reduced consumption of red meat, and avoiding high-sodium foods are just a few of the nutritional recommendations that you should be conscious of as you accelerate through your health journey. 
Now, the most challenging part about making these good choices is saying no to the bad ones. Nostalgic meals and wholesome, hearty dishes can be a challenge to turn down. Lucky for you, there are a few nutrition hacks you can use in the kitchen to turn your not-so-healthy favorites into the nutritionally-rich meals that your mind and body deserve. 
PLANT-BASED MILKS
In nearly any recipe that calls for milk, introduce a plant-based substitute. The options are endless in the non-dairy milk world– from almond and oat to hemp and coconut, you can so easily increase the nutritional value of any meal by switching up the milk you use. For a creamier, more savory substitute, go for an alternative like almond or oat milk. Looking for a lighter addition, try something like hemp or pea milk. If you are cooking something on the sweeter side, coconut milk is a fantastic option. 
GO NUTS
Nuts are incredibly versatile foods that are as nutritionally powerful as they are flavorful. If you have access to a blender, blending equal parts cashews and water make for a tasty alternative to heavy cream. Adding it to your soup is a game-changer. Additionally, you can use nuts as alternatives to grains when crusting your meat or fish before baking it. For example, simply crush up slivered almonds and mix with your favorite spices for a delectable almond-crusted tilapia, chicken, or cauliflower. 
MEATLESS MEATS 
From bolognese and tacos to breakfast hash and burgers, red meat is the traditional way to go. With so many plant-based alternatives on the market, you can make the easy switch from nearly any meat-based meal to a healthier, more nutritious protein-packed dish. You can also use mushrooms, grains, and walnuts to whip up a healthy and hearty alternative to ground beef. 
SAY HELLO TO HEALTHY GRAINS 
If one of your favorite, not-so-healthy dishes calls for a refined grain like white rice, don't hesitate to get creative with your substitute. From quinoa and chick-pea "rice" to lentils and whole grain rice, there are numerous options for you to make your favorite meal a tad bit fresher. 
SAVORY SALT SUBSTITUTES 
Let's be real, some dishes simply call for a lot of salt. While there may not be a direct substitute for salt itself, adding savory spice, dried herb, and vinegar (when appropriate) in place of a hefty serving of salt can do the trick. Play around with garlic, lemon juice, lemon zest, black pepper, onion powder, dill, balsamic vinegar, and nutritional yeast to reduce the amount of sodium in your cooking without compromising on flavor.