10 Tell-Tale Signs You Need To Get a New Fitness Routine Going
By: RockBox Fitness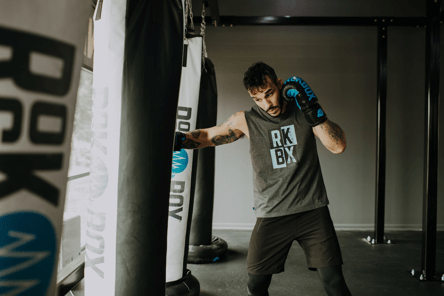 The practices that make up your health and fitness routine should be tailored to you — including your current fitness level, injuries, and interests.
Finding what works best for you is an amazing feeling. This is something that every person on a health and fitness journey strives for. But even those that are at peace with their fitness routine, may need to do some rethinking…
Here are 10 tell-tale signs you need to change things up in your fitness routine: 
Your motivation is dwindling. 
To crush your fitness goals, you must walk into every workout excited and ready to sweat. So if you are desperately searching for motivation, it is time to switch things up. Step out of your comfort zone and try something new. 
You are feeling really strong in some areas, but weak in others. 
One of the biggest signs that your workout routine is demanding a change is if you are feeling strong in some areas, but weak in others. This can look like many things. Maybe you've built up significant strength in your legs, but your upper body is lacking. Or maybe your arms are strong and defined, but your core is feeling weak. If this sounds like you, be sure to prioritize full-body workouts in your routine to ensure you are not leaving any muscle groups behind! 
Fighting fatigue. 
If you wake up lacking energy or if you feel tired after your workout, your body may be sending you a sign. Your fitness routine should energize you, not drain you. Give your body a new outlet to sweat and say farewell to fatigue once and for all. 
Recurring pain or tension. 
This one is obvious — if you are dealing with recurring pain or tension, it is time to shake things up. This is typically a sign that you have overworked certain muscles and joints. While taking a break is important if you are experiencing these ongoing issues, it is equally as important to diversify the workouts you are doing. If the recurring pain or tension continues even once you've done so, be sure to consult with a professional. 
Struggling in the endurance department. 
If you are feeling strong and defined, but can't power through a lengthier, cardiovascularly challenging workout, this may be a sign that your body needs…
… cardio. 
While cardio is a dreaded practice for many, it is so much more than running or riding a bike. Kickboxing is an empowering workout that will support your cardiovascular health without the dreadful bore and injury that so often come with running and other cardio-heavy practices. 
Prolonged soreness. 
Yes, soreness is a good thing. However, if you are always sore and can't seem to shake it no matter how much you stretch and take rest days, your body is probably trying to tell you something. 
Your muscles crave diversity. By tapping into a fresh fitness routine you give them a new focus. While this will surely promote new soreness, it will come in waves as it should and not be an ongoing issue for your body. 
Or you are never sore….
While being sore all of the time is a tell-tale sign that you need to change up your fitness routine, it is just as telling if you are never sore. 
This means your body is so accustomed to the workouts you put it through. In other words, you aren't challenging yourself as you should! It's time to shake things up, engage new muscles, complete new movements, and feel soreness in new places.  
You are craving a challenge. 
If you can get through your workout with ease and are looking for a new fitness challenge, take matters into your own hands and try something fresh! 
Not sure where to start? Find the RockBox Fitness nearest you and enjoy your first class for free. You will experience a challenge like never before. 
The dreadful plateau…
If you made a whole lot of progress at the beginning of your health and fitness journey, but have since plateaued and not made your desired progress, your body is looking for something new. 
Tapping into a new fitness routine will shock your system (in a good way) and can promote new growth in more ways than one. 
 You aren't reaching your goals. 
If you are a newbie in the health and fitness scene and have yet to reach the goals you set for yourself, chances are you aren't giving your body what it needs. 
Regardless of the types of goals you have, finding a balance between strength, resistance, and endurance training is a great place to start. This will give your body the full-body push it deserves and will serve as a catalyst to reach your fitness targets.