RockBox Owner Spotlight: Joe & Stuart
STUART RIGGINS & JOE DUNN ARE LIFE-LONG BEST FRIENDS AND NOW, BUSINESS PARTNERS.
Joe & Stuart signed on as Franchise Owners in August 2020 and opened the doors of their studio, RockBox Fitness Lubbock, in January 2021. They also made the decision to expand their footprint with RockBox and have purchased the rights to two additional territories in the state of Texas!
Stuart has been married to his wife, Annalisa, since 2004 and they have three boys, a 12 year old and 10-year-old twins. Annalisa is a physical therapist and Stuart is a former emergency room nurse that now works as a nurse practitioner specializing in spinal cord and brain injuries. He has been a nurse practitioner since 2013.
Joe has been married to his wife Amanda for 24 years and they have two kids. He owns a security company with his father that they have been building for over 20 years that covers Texas and Oklahoma. Together, they have grown their family business from a tiny company with very limited resources to a successful and thriving business while keeping their faith and values as their highest priority. "God has truly blessed us over the years and we hope that we have made a positive impact on the people we have worked with," said Joe.
How Did You Discover RockBox Fitness?
"My partner, Joe, and I were looking at possibly opening a kickboxing studio, but we wanted it to incorporate resistance/functional training. I was searching the internet and RockBox was a perfect fit!" -Stuart Riggins
"After the gym that my partner Stuart Riggins and I were members at closed, we went a year without a good workout. We said many times that we should just open our own place and one day it stuck! After a little research it was clear that RockBox was the perfect combination of the kickboxing we were missing plus the functional training needed to give the best possible workout. We never looked back and are so blessed to be a part of the RockBox family." -Joe Dunn
Why Did You Ultimately Decide to Become Franchise Owners with RockBox?
"Our initial contacts with RockBox, Chris, and Zac were incredible! After actually meeting the team at discovery day and seeing everyone's firm belief in the RockBox values, we were sold! Being in healthcare, I'm always looking for ways to change peoples lives. I was interested in RockBox because of their interest in changing peoples' lives, not just providing are you fitness studio." -Stuart Riggins
"While the workout style was what brought us in, the company itself is what sold us. Starting from our first call with Zac when he explained the acronym F.A.S.T.E.R., we were impressed with the core beliefs of RockBox. He started to explain the biblical use of the word service and I very much appreciated that such an important principal was part of the company. From then on we were constantly impressed with the professionalism, and the solid structure that we saw in everyone we met. To me, knowing that the corporate office was built from such a strong footing made the decision an easy one. Our success would be driven from the ground up and I knew that we would have the support and tools we would need." -Joe Dunn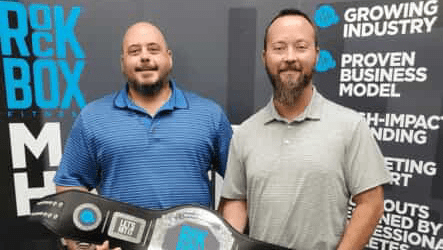 How Has Your Experience Been As A Rockbox Fitness Franchisee So Far?
"Excellent! RockBox has an incredibly supportive team. The family you build with other franchisees is just as important. We continue to reach out to other teams, and they to us, seeking affirmation and advice." -Stuart Riggins
"In the time that our studio has been open, I can't tell you how many times I have felt so blessed. When the first of many people came up to Stuart and I to thank us, I was very confused. I had to ask what they meant and was blown away. So many people have genuinely thanked us for creating a place that they felt so comfortable, motivated and like they were part of a family. To know that we have already helped to improve lives and make a positive impacts is just something I wasn't expecting. While this is a business and obviously we want it to be profitable, knowing that we are making a difference in so many great people is worth so much more!" -Joe Dunn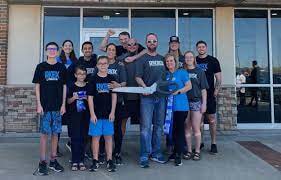 Which Of The Rockbox Company Values Resonates With You Most & Why?
"Service. Being in healthcare I am always looking for ways to help others. I can now provide a method for people to change their lives instead of just prescribing another medication. I also get to show my children the importance of being willing to serve others."-Stuart Riggins
"Service has always been mine. My gift is the heart of a servant so obviously it spoke to me right away. While service is something you do for someone with no expectation of anything in return, I can't tell you the blessings I have received from my service. Seeing the look on someone's face that has lost 30 pounds in 5 weeks, hearing how grateful they are that they have a place to workout that they actually feel accepted and encouraged, watching a group of people from all different places in life make a fitness family, and so many other things. I love that we can help our members physically and emotionally with what we do." -Joe Dunn
Keep up with Joe & Stuart by following RockBox Fitness Lubbock on social media!
If you're interested in trying out a class at RockBox Fitness Lubbock:
To learn more about opportunities available with RockBox Fitness franchising, visit their website at https://rockboxfitness.com/ or book a call with the RockBox Fitness Development Team by clicking here!