RockBox Fitness Fighting Back
RockBox is so much more than a kickboxing gym, it is a state-of-the-art boutique fitness studio that combines confidence-building boxing and kickboxing, with strengthening functional exercises in a 'fight-
club' meets 'night club' atmosphere.
This up and coming, rapidly growing concept is solving the nation's #1 problem with any fitness program…BOREDOM! When members become bored with their fitness classes, long-term sustainability—for both members and the business— is at risk. With more than 200 functional movements featured on iPad kiosks, four different class types, and three different focus types (speed, power, strength), members never do the same workout twice! RockBox's simple, yet proven model is built for growth and structured to generate sales from pre-opening and beyond. This is as true today as it has been during the obstacles presented to thrive during this time.
Weaving Past Obstacles
For RockBox Fitness, when faced with new obstacles this past year, they quickly pivoted from familiar to innovative by offering live 30-minute virtual workouts as well as releasing a new system called RockBox Remote which allowed their members to stay involved and attentive during their six-week challenges. As the country began to open back up, RockBox implemented smaller class sizes, individual spray bottles, towels, and even sectioned off functional work-out spaces to help members safely keep their required six feet of distance. To adhere to regulations and make their members even more comfortable, they also went as far as utilizing every other boxing bag during classes and assigning a bag to each member to avoid contact and cross-contamination. Their out-of-the-box thinking led to some Franchise Owners adding flooring and fencing to their parking lots to incorporate outdoor workouts for clients to participate in classes together even in the uncertain times of this pandemic. Keeping their members protected and their studios clean is their number one priority. During this pandemic, RockBox has stayed strong and is coming out of it better than ever. Members "come for the results but they stay for the experience" which has allowed RockBox to retain 82% of their memberships through this time, and to continue to support their vision of the brand and invest in their long-term growth, they appointed April Fisk, previous Orangetheory Executive, as President.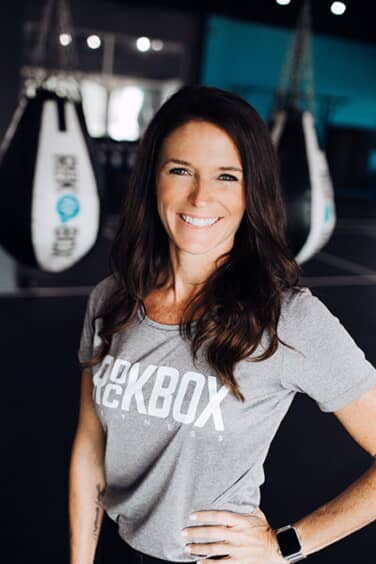 As the country began to open back up, RockBox implemented smaller class sizes, individual spray bottles, towels and even sectioned off functional workout spaces to help members safely keep their required six feet of distance.
System-Wide Growth
Many fitness concepts have taken a significant hit this year and sadly some did not survive the impact, but unlike the others, RockBox Fitness has experienced stable and consistent growth throughout this time. This year alone they have awarded 14 new Franchise Owners for 20 new locations bringing their system-wide growth to over 66 locations across 15 states. Additionally, they are on track to open 8 new studios with Owners reporting pre-opening
sales reaching higher than previous years!
With a low initial investment, multiple revenue streams, high customer retention rates, and industry-leading revenues, this is an opportunity for individuals who want to join a community of like-minded entrepreneurs, and work with an innovative and experienced executive team who will guide them to success! RockBox Franchise Owners come from diverse backgrounds, but they all are motivated to inspire fun and fitness in their communities and create an environment that fosters positive change. Their ideal candidates have strong sales and management experience and are community and family-oriented. Outgoing individuals with great people skills that are health-conscious will thrive as Franchise Partners in their local markets.
RockBox has reimagined what it means to be a consumer-focused business during a time when social distancing is at the forefront of all of our interactions, and with a lower investment compared to other boutique fitness studios, no expensive overhead or equipment required, and prime territories still available, there is no better time to invest in this opportunity that will put the KO (knockout) on any obstacle that comes their way!
For Franchising Information
To learn more about opportunities available with RockBox Fitness franchising, visit the RockBox Fitness Franchise site at https://rockboxfitness.com/ or book a call with the RockBox Fitness Development Team by clicking here!
FOR FRANCHISING INFORMATION
FranDevCo's Communications & Content Specialist, Camantha Magoon, has a background in Linguistics and Anthropology from Grand Valley State University in Allendale, Michigan.
Credit to Franchise Journal for this article.