Former Panther's Goal: Building Businesses
RETIREMENT FROM PROFESSIONAL SPORTS HASN'T SLOWED MIKE TOLBERT.
When the former Carolina Panthers fullback hung up his cleats in 2018, he pondered what to do with the rest of his life. Tolbert knew he wanted to be his own boss, though, so he founded Raedeon Elite Trucking, named after his three children. Still he wanted more. His wife, Shia, had an idea: a fitness studio.
"I had no idea what was next," said Tolbert, who spent half his 10-year NFL career with the Panthers, where he earned three Pro Bowl berths and All-Pro recognition in 2013 and 2015. "I tell the story of moving into a new house and the power's off and you're trying to find your way in the dark to the bathroom. I was trying to find my way in the dark when I retired. Eventually, the light comes on, which is your idea and you start putting your plan together. Just like in football, you create a game plan, you stick to that game plan and that's what we're trying to do."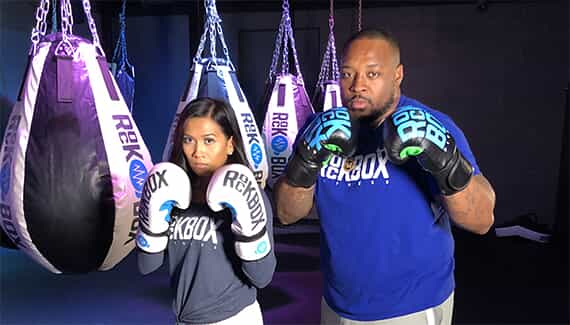 The plan included signing a development agreement with RockBox Fitness, a Charlotte-based franchise that combines boxing, kickboxing, and functional training into group workouts. The concept appealed to Tolbert, whose offseason boxing workouts prepared for the rigors of football. Shia started to gravitate toward pugilism as a fitness routine after Mike's retirement. The couple expect to open a studio in the SouthPark area in the summer.
"It was all her idea, really," Mike Tolbert said. "About six months ago, she said 'what do you think about opening one, about franchising one?' I was like, let's do some research, so the more she did research on it and started to talk to people, the more we fell in love with the concept. Me being partial to boxing because that's what I did as my form of training in the offseason [was a plus]. …I didn't do weights; I didn't do running. I strictly did boxing. It was an easy transition."
Said Shia: "All the years of [Mike] doing boxing as his offseason training, we went with him sometimes. We saw all the agility training and the strength and conditioning his former boxing coach would do. I've always loved boxing, but I was never like 'I'm going to get up there and put on some gloves and start hitting bags too' until I came to RockBox. It's been amazing."
Having more home time to dedicate to family and business has been a revelation, Tolbert said. He's more involved in his children's lives and fulfillment in entrepreneurship that brings a different perspective than competing in the NFL.
"We're both home now, so we're trying to find that balance," Shia Tolbert said. "There's sports schedules, extracurricular activities on top of him working from home and a 2-year-old screaming 'Daddy, Daddy, I'm hungry!'
"I actually love it that he's home. I know some of the other wives might say 'he needs to find a job or a hobby because he'll drive you nuts.' He likes to golf when he needs to get away and decompress and get away from everyday stuff with the trucking, the kids and probably me, but it's been great having him home."
FOR FRANCHISING INFORMATION
To learn more about opportunities available with RockBox Fitness franchising, visit the RockBox Fitness Franchise site at https://rockboxfitness.com/ or book a call with the RockBox Fitness Development Team by clicking here!
Credit to the Charlotte Post for this article.