RockBox Owner Spotlight: Tina
Tina Ching assumed ownership of RockBox Fitness Scottsdale in October 2020. Her studio doors officially opened to the public this year on January 11th, 2021. Tina was born in Hawaii and raised in Guam! While living in Guam, she swam competitively and represented Guam in the South Pacific Games in New Caledonia, Pan Pacific Championships in Australia, and qualified to represent Guam in the 1988 Olympics in Seoul, Korea. She earned her bachelor's degree in Mechanical Engineering at Cornell University, as well as her law degree from Hamlin University.
"Over the past 25 years, I've been a corporate lawyer, full time mom to three kids, mediator, teacher, fitness trainer, martial artist, and now entrepreneur."
Tina not only took over an existing location, but also owns the right to 5 other RockBox Fitness studios in the state of Arizona! With fitness being a huge passion of hers, RockBox really was the perfect fit.
"RockBox truly cares. From the very start, RockBox has impressed me. Chris and Zac contacted me right away and spent one month talking to me about the opportunity. Who does that? RockBox Fitness. The workout is addicting and there's nothing else like it out there right now."
After her recent divorce and a long career as a Corporate Attorney, Tina was ready to take control of her future and pursue a career that aligned with her own personal passions.
"My 12 year old self wanted to be the CEO of my own company. Societal pressures and my upbringing led me to take the traditional route and ignore my true calling of being an entrepreneur. Then COVID hit. It took a pandemic to force me to really think about what my life looked like and whether it was truly serving me. As a single mom, I want to set an example for my children; to do what makes you truly feel alive, no matter what it takes. I've always like to empower myself as well as other other women. I have two daughters and I'd like them to feel empowered too."
Tina signed on as a RockBox Fitness Franchise Owner in October of 2020. When asked what her experience has been like she said:
"The Home Office is filled with rockstars. After the amazing support I received from Chris and Zac during the Discovery Process, I visited the Home Office for Discovery Day. Meeting the founders, the president, the CEO and the entire team confirmed for me that RockBox is a family that cares. Everyone responded to my questions promptly which is what you need when you're starting a studio in the middle of COVID. I've felt doubt, fear, joy, elation and fun almost daily since I've embarked on this journey. If I didn't have the RockBox Fitness team behind me, my doubt and fears would have overtaken my joy, elation and fun pretty quickly. But I believe in RockBox Fitness and what it can do for people. We say we can change lives, and I've seen it in our members."
We wanted to know which of the RockBox Fitness values aligned with Tina most and why! Her response was,
"This is always a tough question for me. They all do. When I first became an owner, Service resonated with me the most. I was looking for something that would help me be of service to others. RockBox allows me to help members make the changes they desperately need. RockBox is also a platform where we can make a difference in our communities. Now that I'm a few months in, Accountability is resonating even more with me because RockBox is an accountability partner. Other gyms are just that. RockBox prides itself in being its members' accountability partner. We care about our members actually showing up and reaching their goals. They can wish it, dream it, and pay for it, but it will only happen if they show up. That's what makes RockBox different."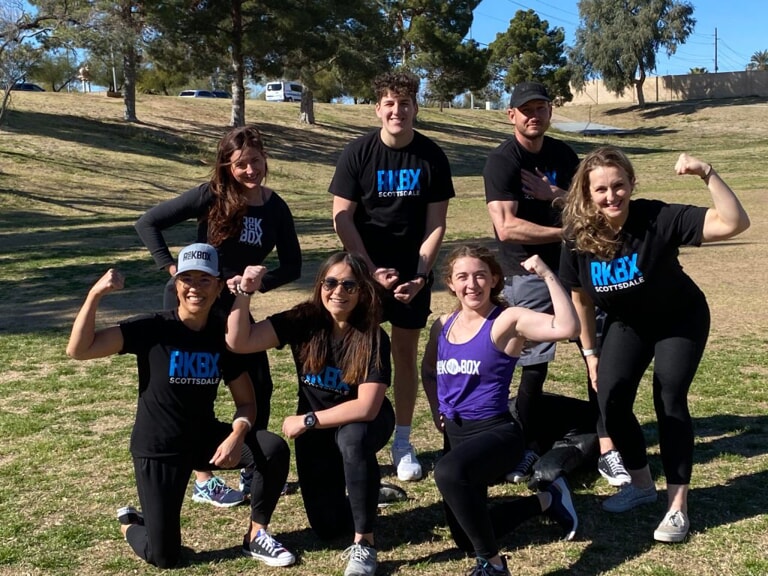 Keep up with Tina and her team by following RockBox Fitness Scottsdale on social media!
If you're interested in trying out a class at RockBox Fitness Scottsdale:
To learn more about opportunities available with RockBox Fitness franchising, visit the RockBox Fitness Franchise site at https://rockboxfitness.com/ or book a call with the RockBox Fitness Development Team by clicking here!